September 10, 2018, 12:32 PM EDT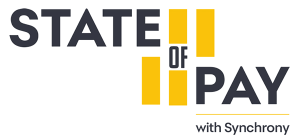 Getting to Know You: Driving Loyalty
Loyalty programs used to be simple. The more customers purchased, the more a company rewarded them. But consumers today expect far more from companies to gain their loyalty over the long term.
Beto Casellas, executive vice president and Chief Customer Engagement Officer for Synchrony, says "Personalized offers and rewards have become table stakes for the competitive retailer, and customer loyalty is built on services and experiences — not just products and points. Understanding how customers want to interact with and experience your brand is key to creating a customer for life."
In this environment, retailers must think more strategically about loyalty programs, putting the customer at the center of every decision as they create or update those programs. By making rewards achievable, meaningful, personal and surprising for customers, companies can build outstanding customer loyalty, says Leonard Jennings, senior vice president of Loyalty Marketing for Synchrony. Here's a look at three standout companies and their novel approaches to loyalty programs that employ these pillars to great success.
Make rewards achievable
Sleep Number's InnerCircle program
Building a rewards program for a product that's purchased perhaps once a decade and costs more than $1,000 may seem counterintuitive, but mattress company Sleep Number's InnerCircle rewards program inspires fanatical enthusiasm. Instead of having to buy something, members trigger rewards for sweepstakes entry for items such as pillows and sheet sets by offering survey feedback, sharing reviews socially, reading sleep and health content and sending out digital referrals to their friends and family. For every successful referral, InnerCircle members receive a $100 reward to spend in a Sleep Number store or online. They also reach different tiers within the program where additional rewards are unlocked, and they never lose that tier status. Lisa Erickson, senior director of CRM & Loyalty says the program is all about "building lifelong relationships by engaging with our Insiders on a frequent basis and helping them sleep their best by providing them with valuable content through the program."
Be Relevant. Personal. Meaningful
Lowe's Customer-Centered Design
The path to loyalty for home-improvement retailer Lowe's starts with customer-centered design and service in-store. "You can't just create a loyalty program and hope people will buy," says Ruth Crowley, vice president of Customer Experience Design for Lowe's. "You have to build something that is relevant for the customer." The strategy is working for customers and associates. For example, before launching a new kitchen set, Lowe's tested the way retailers typically set up a kitchen showroom. "We challenged ourselves to view it from a customer lens," says Crowley. Lowe's created two kitchen layouts — one traditional and another that they thought would make selection easier and less stressful for consumers — which would ideally lead to purchase and loyalty. Customers chose the new solution. Together with feedback from store associates and partnering with key suppliers, this insight has led to the creation of a new kitchen set now available in 100 stores, and rolling-out in several hundred more by the end of 2018, according to the company. "Based on the rapid pace of change in the industry we will continue to evolve the experience to serve the customer and serve our stores," Crowley says. "One size does not fit all." While 70 percent of customers do research online before making a purchase, Crowley reports that according to industry research, the majority of purchases (75 percent) are ultimately made in-store. Ensuring a relevant, personalized, meaningful in-store experience is key. "We have to create an environment that says we understand you, we can help, and you can have the experience that suits you best in our store," Crowley says. "We have to enable our associates to help us serve every customer in the moment more effectively. At the end of the day, we are in the people business."
"
...customer loyalty is built on services and experiences – not just products and points.
"
Surprise and Delight
Tillys Differentiated Experiences
Taking a broad-brush approach to loyalty can be efficient, but it translates to boring for customers, especially in fashion retailing. "Our job now as retailers is to come up with very cool experiences," says Jon Kubo, Tillys Chief Digital Officer. To do that, Tillys has taken a combined analog-digital approach to its loyalty programs. It organizes in-store events to meet fashion influencers then connects them to augmented reality stunts where customers use their phone and Tillys mobile app to view the content. While those events help draw and keep consumers, it also helps Tillys gather data to then craft even better and more precise engagements and offers. So far, Tillys initiatives have been a success: Kubo says the company has recorded six consecutive quarters of in-store growth.
LEARN MORE FROM STATE OF PAY
Synchrony Disclosure: This content is subject to change without notice and offered for informational use only. You are urged to consult with your individual business, financial, legal, tax and/or other advisors with respect to any information presented. Synchrony and any of its affiliates (collectively, "Synchrony") makes no representations or warranties regarding this content and accept no liability for any loss or harm arising from the use of the information provided. All statements and opinions in this article are the sole opinions of the interviewee. Your receipt of this material constitutes your acceptance of these terms and conditions.