July 17, 2019, 1:00 PM EDT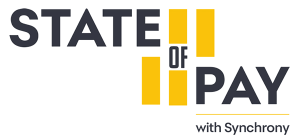 What's Old is New
Using Smart Cameras to Unlock Unseen Opportunities
When cameras were first introduced in retail stores, it revolutionized the way business owners took take of their operations. Cameras ushered in a security and operations revolution, but a new generation of cameras is helping retailers do a lot more than keep an eye on merchandise.
Today's smart cameras can do everything from analyze how shoppers move around stores to help store owners understand consumer brand preferences to monitor the ripeness of fruit. These new features can mean the difference between a sale and a frustrating customer experience.
This use of technology is rapidly transforming the shopping experience. According to a survey* sponsored by Synchrony, 72% of retailers said artificial intelligence will be a competitive necessity for their company in the next 5 years. And 40% said they were investing in robotic process automation in at least some parts of their business*. Applying AI, robotic processes and other tech enables never-previously possible opportunities for cameras. No longer are we talking about the typical point-and-shoot variety!

"If you can teach those cameras to recognize merchandise and traffic patterns, you can use machine learning to analyze those insights," says Sih Lee, SVP Strategy, Payment Solutions at Synchrony. Fusing the old and the new has yielded exciting new possibilities for retailers looking to gain an edge in a market where technology is moving the conversation forward.
Eye, Robot
Autonomy isn't just for cars. Home improvement retailer Lowe's is using smart cameras to power their "LoweBot," an autonomous service robot that roams the aisles and helps employees with inventory monitoring. They can't grab a piece of lumber or find the right drill bit—yet—but it has freed up human employees to spend more time helping customers, and less time handling inventory demands.
No Wallet, No Problem
There was a time that grabbing something off a store shelf, placing it into a bag and walking out would have gotten you into trouble. But that isn't the case at any of the dozen Amazon Go stores scattered throughout the U.S. where, thanks to a grid of computer vision-equipped cameras, customers can take products off store shelves and walk out without ever opening their wallet.
Next-generation cameras can identify the items customers have selected in real time and charge their associated accounts automatically as they leave. The cameras are so intelligent that they can even tell when a customer puts something back on a shelf, ensuring that people aren't charged for that soda they opted not to buy. It's redefined the concept of "Grab and Go," and has the potential to transform how we think of retail operations.
When retailers first started using cameras, they were a one-way tool, capable only of relaying what was going on in a distant corner of a store. Cameras back then saw; cameras today learn. From unearthing insights that can dramatically improve operations to helping customers navigate stores, cameras are becoming a central component of retail technology. The most innovative retailers don't just see what's in front of them, they see what's ahead too.
For more insights on the new, now, and next in commerce, payments, and technology, click below to learn more.
LEARN MORE FROM STATE OF PAY
*Synchrony Survey in partnership with Oxford Economics, 2019