February 2, 2023, 7:30 AM EST
Synchrony Commits $100 Million to Grow Minority-Owned Businesses
Invests in Ariel Alternatives' Project Black Fund to Scale Minority Businesses
Investment Builds on Synchrony's Efforts to Advance Equity Among Diverse Businesses
STAMFORD, Conn. – February 2, 2023 – Synchrony (NYSE: SYF), a premier consumer financial services company, today announced a $100 million commitment in Ariel Alternatives' Project Black, which aims to scale sustainable minority-owned businesses and position them as leading suppliers to Fortune 500 companies. Project Black is a strategic initiative of Ariel Alternatives, the private equity subsidiary of Ariel Investments, LLC.
"Building a more equitable, inclusive economy is a business imperative," said Brian Doubles, President and CEO, Synchrony. "Our investment in Ariel and Project Black will help give Black, Hispanic and women entrepreneurs the support they need to grow long-term. Synchrony is committed to providing the resources and expertise to advance equity for diverse businesses and communities."
Project Black invests in middle-market companies that are not currently minority owned, as well as existing Black- and Hispanic-owned businesses, providing capital, resources and minority executive talent. Under Project Black's ownership, these companies are expected to be transformed into certified minority business enterprises ("MBEs") of scale to fuel Fortune 500 vendor and supply chain diversity. Synchrony, along with other investors, plans to explore collaboration opportunities with portfolio company management teams to pursue growth strategies.
"Synchrony's partnership will help fuel widespread corporate vendor and supply chain diversity. With their support, we look forward to creating consequential middle-market businesses, changing the perception of what it means to be a minority-owned enterprise in the United States," said Leslie A. Brun, Chairman and CEO of Ariel Alternatives. "We are delighted and honored to have Synchrony as an investor in Project Black."
According to CEO Action for Racial Equity, in 2020, Fortune 500 companies directed an average of two percent ($125 billion) of their total spend to minority-owned businesses, yet many have pledged to dramatically increase their spend. With 95 percent of minority businesses having less than $5 million in revenue, few have the scale to tap into this $1 trillion opportunity.
Advancing equity, diversity and inclusion
These efforts build upon Synchrony's ongoing commitment to treat equity, diversity and inclusion as a strategic business imperative and drive long term progress. The company's holistic approach includes advancing financial opportunities and growth among diverse businesses and communities.
Synchrony and Synchrony Ventures have pledged $20 million to date in venture capital funds led by Black, Hispanic and female investing partners. The funds selected include Company Capital, Chingona Ventures, Seae Ventures, Trail Mix Ventures and Zeal Capital Partners. The company also signed the National Venture Capital Association's (NVCA) human capital pledge in 2020 to advance a more diverse and inclusive venture ecosystem.
Since 2021, the company has strengthened its supplier diversity program by expanding internal initiatives and external outreach. As a result, in 2022, Synchrony achieved a 180 percent increase in the number of proposal submissions by diverse suppliers and nearly 70 percent of those were selected to do business with Synchrony. As a member of the National Minority Supplier Development Council and the Women's Business Enterprise National Council, the company continues to identify and use diverse suppliers whenever possible.
Synchrony and the Synchrony Foundation's $50 million, five-year initiative, Education as an Equalizer, increases access to higher education, skills training in high-growth fields, and financial empowerment for underserved communities and its own workforce.
In 2020, the Synchrony Foundation committed $5 million to support funding of small business grants through community organizations such as the Local Initiatives Support Corporation (LISC) that provides emergency grants to minority- and women- owned businesses and Operation Hope which offers technical support and financial counseling. To date, more than 620 small business owners have received grants and support.
Synchrony has been highly successful in its effort to hire, develop and advance diverse talent within its own organization through a data-driven approach. The company has included diversity improvements among the metrics used to determine bonus funding for Synchrony leaders. Synchrony has also redesigned its leadership development programs so diverse employees can gain executive coaching, sponsorship and mentorships with senior leaders.
The company has committed to hire, upskill, advance and improve retention for Black talent without four-year degrees into middle skill and family-sustaining wage jobs. Synchrony has joined OneTen, a coalition of leading companies that is committed to creating a more inclusive corporate America by hiring and promoting one million Black individuals into family-sustaining jobs over the next decade.
Synchrony hosts an annual Global Diversity Experience for all employees, leaders and members of its Board of Directors to deepen understanding while advancing a culture of belonging and well-being for all.
About Synchrony
Synchrony (NYSE: SYF) is a premier consumer financial services company delivering one of the industry's most complete digitally-enabled product suites. Our experience, expertise and scale encompass a broad spectrum of industries including digital, health and wellness, retail, telecommunications, home, auto, outdoor, pet and more. We have an established and diverse group of national and regional retailers, local merchants, manufacturers, buying groups, industry associations and healthcare service providers, which we refer to as our "partners." We connect our partners and consumers through our dynamic financial ecosystem and provide them with a diverse set of financing solutions and innovative digital capabilities to address their specific needs and deliver seamless, omnichannel experiences. We offer the right financing products to the right customers in their channel of choice.
For more information, visit www.synchrony.com and Twitter: @Synchrony.
Contact:
Angie Hu
Synchrony
Angie.Hu@syf.com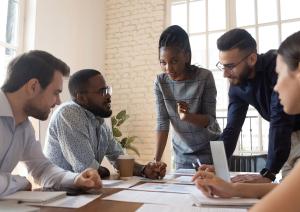 Synchrony builds on efforts to advance equity among diverse businesses by committing $100 Million to Ariel Alternatives' Project Black fund.