April 26, 2023, 9:00 AM EDT
Synchrony Study Estimates The Lifetime Cost Of Horse Ownership Ranges From $300,000 To $924,000
Horse Owners Underestimate the Total Cost of Care, with Actual Expenses Three or Even Four-Plus Times Higher
Research Uncovers 85 Percent of Horse Owners Feel Anxiety from Horse Expenses, Can Expect One to Two Costly Emergency Medical Events Per Year
STAMFORD, Conn. – April 26, 2023 – Horse owners nationwide vastly underestimate the lifetime cost of caring for a horse, which ranges from nearly $300,000 to $924,000, according to a new Synchrony (NYSE: SYF) study, "Equine Lifetime of Care." While 83 percent of horse owners say they are prepared for expenses, the actual costs may reach three or even four times higher than they expect.
According to Synchrony's Equine Lifetime of Care report, costs vary depending on the horse's role:
$575,000-$1,000,000 for competitive horses
$295,000-$400,000 for recreational horses
$215,000-$290,000 for backyard horses
On an annual basis, the all-in costs for owning a horse range from around $8,600 to $26,000 per year, not including events or operating expenses.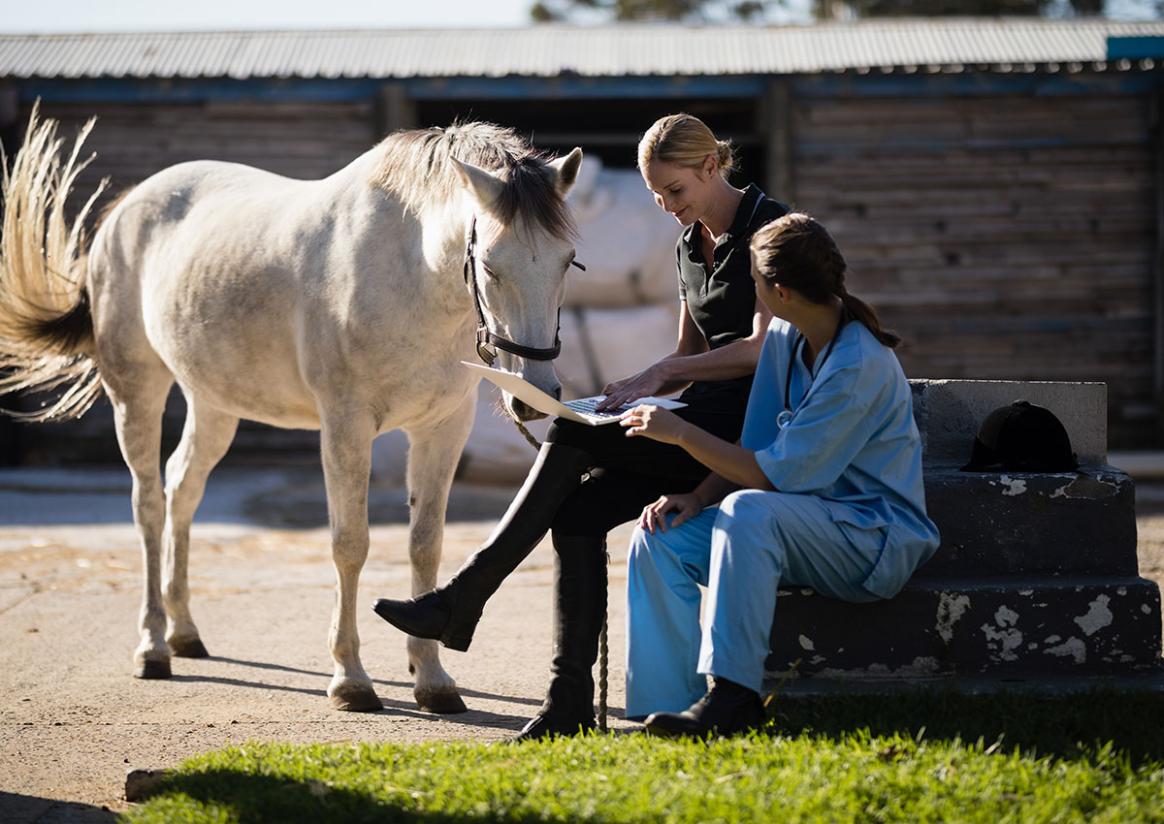 The study, conducted on behalf of CareCredit, a Synchrony financing solution for veterinary care, investigated an exhaustive list of horse expenditures, including food and nutrition, boarding and grooming, farrier services, tack and gear, breeding, routine and emergency veterinary care, end of life care, and more, over a horse's lifetime, which is averaged at 25 years.¹ The findings from 1,231 U.S. horse owners and nearly 30 equine veterinarians, found that while horse owners often financially prepare for food, boarding and gear, they tend to overlook critical components of veterinary care, such as colic treatment, broken bones, and eye issues — which could cost as much as $10,000.
The Equine Lifetime of Care report also indicates that horse owners typically start experiencing stress when an unexpected invoice reaches $1,500. To that end, more than eight out of 10 horse owners surveyed would apply for a credit card that specifically helps finance veterinary care.
With most horses facing one or two emergency medical events per year, Synchrony has sought to build further awareness for solutions like the CareCredit credit card that can help horse owners become financially prepared, while providing equine veterinarians with digital point-of-care innovations that enable them to collect payment for service virtually from any location.
"Nearly all horse owners keep their horses for life – which can be as long as 25 years. Yet, the true cost of care is consistently underestimated, and many horse owners aren't financially prepared for care-related expenses," said Jonathan Wainberg, senior vice president and general manager, Pet, Synchrony. "With the Synchrony Equine Lifetime of Care research, we aim to better educate, inform, and prepare horse owners for what to expect financially, so they have the tools they need to make that lifetime commitment and better provide their horses with the care they need."
"Many might expect experienced horse owners to be the most financially prepared for the lifetime commitment of raising a horse – whether it's a competitive, recreational, retired or backyard horse – but often that's not the case," said Mike Pownall, equine veterinarian, DVM, MBA. "Helping horse owners clearly understand the full financial commitment and the financing options they can rely on from the very beginning can give them peace of mind that they are ready to manage the cost of the lifelong care their horse needs, easing the financial stress for both the veterinarian and the owner."
Equine is the third subject of Synchrony's Lifetime of Care research series, following Pet Lifetime of Care and Lifetime of Healthcare Costs. In particular, the Pet Lifetime of Care survey revealed pet owners can spend as much as $55,000 during a dog's lifetime.
Synchrony, through CareCredit, has been a trusted supporter of veterinary practices nationwide for more than 29 years, and is currently offered in more than 25,000 veterinary practice locations and 1,000 equine practice locations across the U.S. The company is also an educational partner of the American Association of Equine Practitioners (AAEP), an effort designed to strengthen the business side of equine practices and increase the financial health of the equine profession by bringing the benefits of CareCredit's financial solutions to horse owners.
 Horse owners looking for a flexible way to pay for care can quickly determine if they prequalify for the CareCredit credit card (with no impact to their credit score) and apply for the credit card on any smart device, in a veterinary practice, or over the phone. A credit decision is immediate and if approved, the cardholder can use their account to pay the veterinarian immediately. Cardholders can select from short-term and long-term financing options including deferred interest if paid in full within 6,12,18 or 24 months and, and for larger expenses, reduced APR financing with fixed monthly payments for 24, 36, 48 or 60 months are also available. Additionally, Cardholders can use CareCredit to pay for veterinary care for all types of animals in their family including dogs, cats, birds, horses, lizards, rabbits, guinea pigs, and more.
CareCredit offers a user-friendly online calculator that makes it easy to quickly estimate monthly payments based on available financing options.
Methodology
The Synchrony Equine Lifetime of Care study included 1,231 U.S. horse owners and nearly 30 equine veterinarians. Access the complete Equine Lifetime of Care study and flexible financing resources for horse owners and veterinarians. To learn more about CareCredit's equine offerings, please visit https://www.carecredit.com/providers/insights/?industry=equine&topic=&type=.
About Synchrony
Synchrony (NYSE: SYF) is a premier consumer financial services company delivering one of the industry's most complete digitally-enabled product suites. Our experience, expertise and scale encompass a broad spectrum of industries including digital, health and wellness, retail, telecommunications, home, auto, outdoor, pet and more. We have an established and diverse group of national and regional retailers, local merchants, manufacturers, buying groups, industry associations and healthcare service providers, which we refer to as our "partners."  We connect our partners and consumers through our dynamic financial ecosystem and provide them with a diverse set of financing solutions and innovative digital capabilities to address their specific needs and deliver seamless, omnichannel experiences.  We offer the right financing products to customers in their channel of choice.
For more information, visit www.synchrony.com and Twitter: @Synchrony.
Contact:
Michelle Blaya
Synchrony
michelle.blaya@syf.com
626-250-1415
---
¹PetMD, "How Long Do Horses Live?" Kaela Schraer, DVM Published July 18, 2022.