April 21, 2017, 10:42 AM EDT
A Patchwork of Ambition at Country Stitches
Abstract:
2016 Working Forward Small Business Award Winner: Country Stitches
Award Winner: Country Stitches
Small businesses are at the heart of the communities they serve. They can be town halls, safe havens, or the catalyst to a customer's budding ambition. Country Stitches – a fabric, sewing machine and quilting center – acts as all three in East Lansing, Michigan.
Starting out over 33 years ago with just a few sewing machines, Country Stitches now spans two locations and offers 1,500 classes year round. What's more, their reach extends far beyond the loyal customers they keep; service activities are always abuzz in and around the shop.
Owners Ann Covert Fuller and Brian Ladson, along with recently retired founder Anita Covert, have worked hard to create an atmosphere as warm as the quilts that festoon each wall. This can be felt all throughout the store: signatures scroll far past the lines allotted on a nearby Quilt-A-Thon sign up, customers stroll the bolts of fabric at their own pace, employees engaging with them like old friends.
The Thread of a Community
In October 2016, Country Stitches was among the five recipients of the first-annual Synchrony Financial Working Forward Small Business Awards.

Each honoree received $20,000 to split equally between an activity that would make an impact on their community and an important business improvement. Leveraging the $10,000 from their Award, Country Stitches plans to continue championing local efforts that empower women, salute veterans, and aid the homeless.
With the organizations above, Country Stitches has been able to double their contributions in every aspect.

For the Women's Sewing Circle, they've donated six new sewing machines as well as baskets of supplies to be given to training graduates. Much needed items for the "Learn to Sew Program" were also restocked, including trims, Velcro, thread, shears, scissors, needles, fabrics, and other notions.

At their annually anticipated Quilt-A-Thons, they've already held four sessions that yielded 145 quilts. The extra Award funds helped to buy additional batting—the stuffing that makes these beautiful blankets so cozy. By spring, they hope to have over 200 total quilts—twice their usual projection!

Last but certainly not least, Quilts-of-Valor received more supplies and materials from the shop than ever before, emboldening the group's patriotic and important mission and enabling them to make more quilts than before.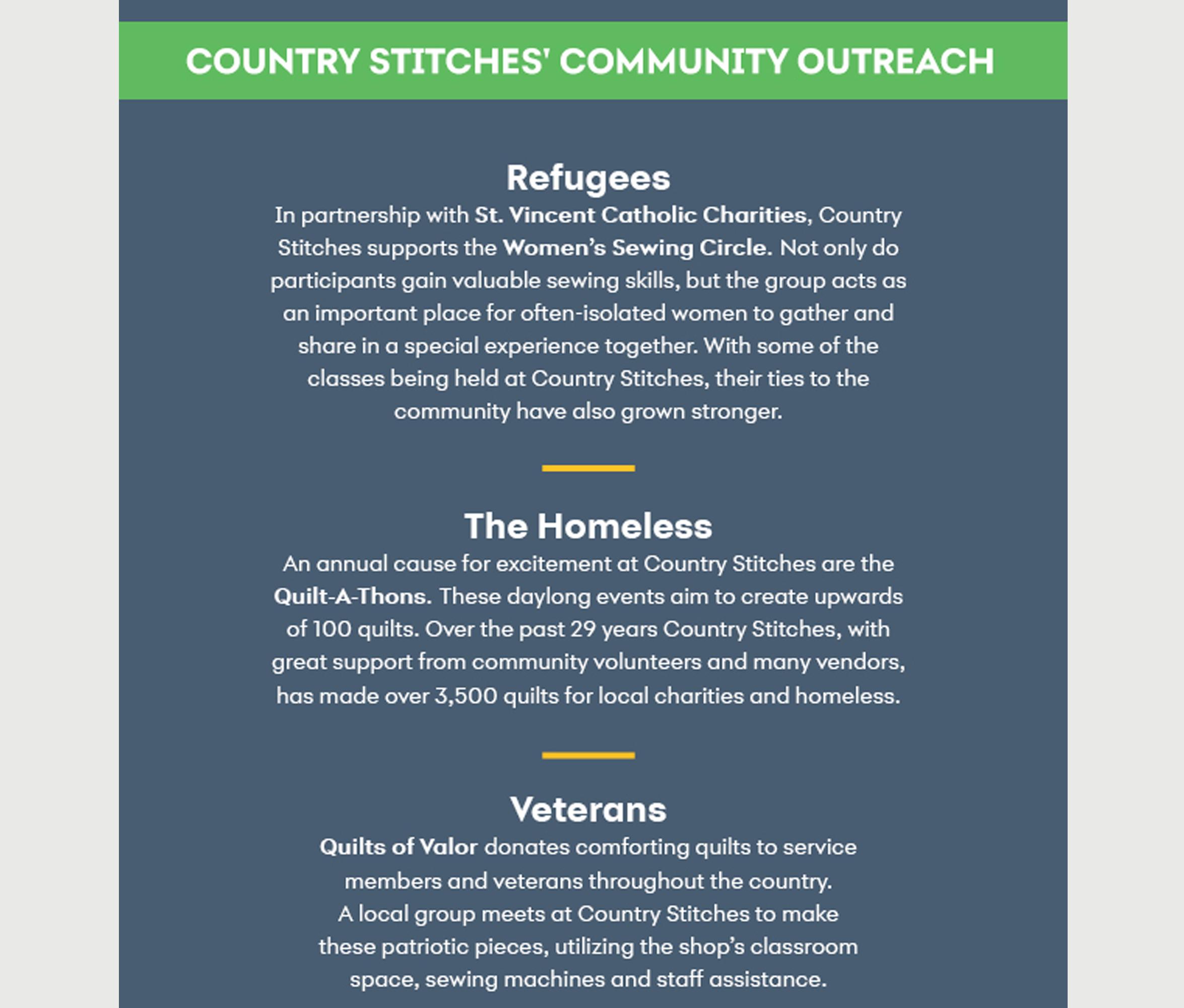 Bringing a Pastime Online
When customers began to turn to the Internet for education, Anita, Ann, and Brian saw an opportunity to reestablish Country Stitches' online presence. Anita is looking forward to the initiative, stating "We want to communicate with our customers better. We can do that with a wider digital footprint." Ann adds that they will begin this transformation by redesigning their website to be more user-friendly and interactive. Their Award has made this opportunity a reality – facilitating a better online experience, a robust social media presence, as well as higher engagement from customers and fans.

Country Stitches is a testament to the impact small businesses have on the towns and cities they serve. They're the place where residents return to a longtime hobby. They're a center for community outreach. Most importantly, they're there for those in need of a reminder of what ambition can create: a space that's extremely special to so many. We're proud to call Country Stitches a Synchrony Financial partner as they continue to uphold the gold standard for small businesses everywhere.