November 10, 2022, 9:00 AM EST
4 Tips to Help Increase Sales for Retailers This Holiday Season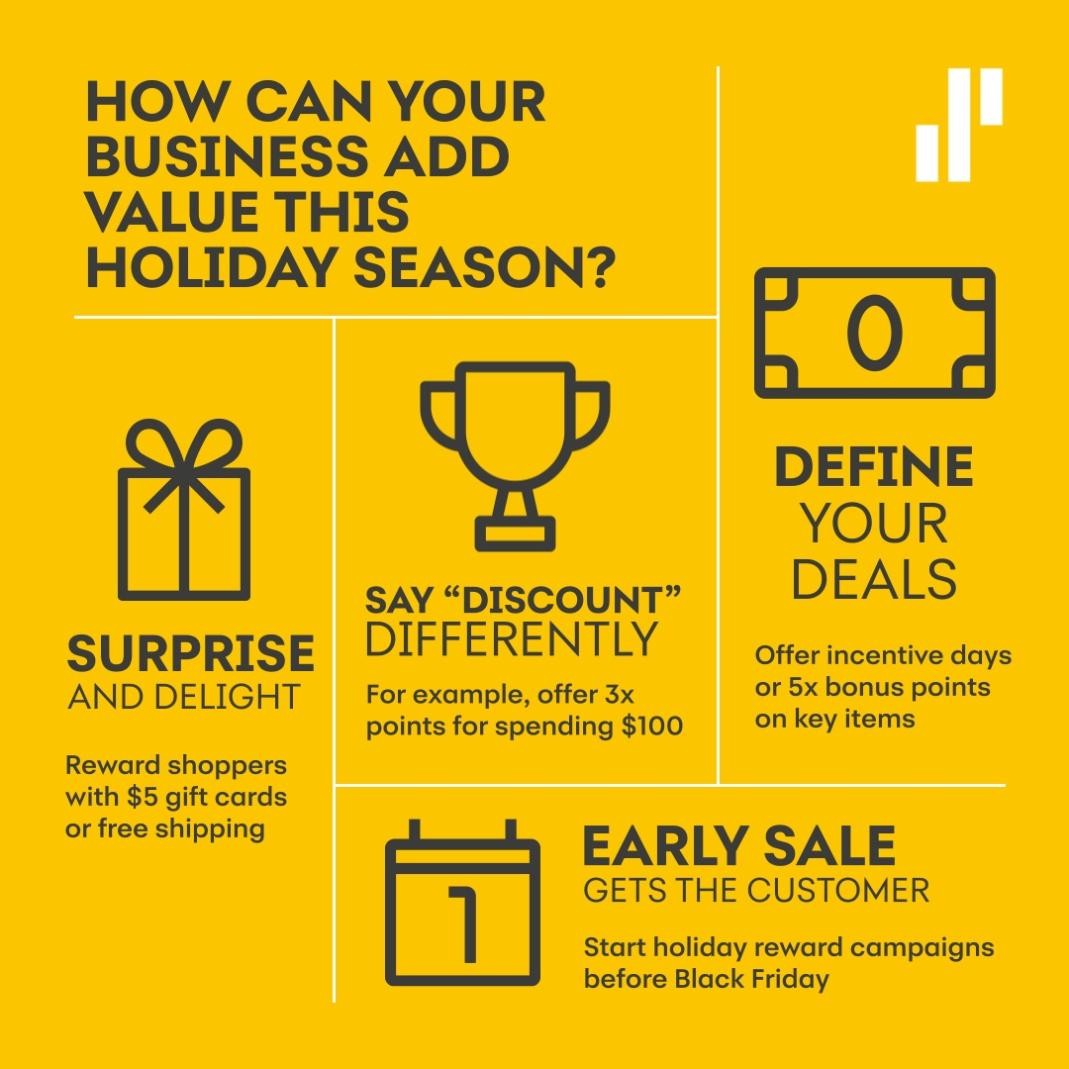 This year's supercharged holiday season will start earlier, last longer and potentially pay off for retailers — with the right strategies in place. Drawing from our Consumer Trends Report on holiday shopping trends, Synchrony's Loyalty Team has compiled actionable insights that can help you respond to shoppers' needs. Here are our tips for boosting retail sales this holiday season.
1. Use discounts to incentivize shoppers
Some shoppers will be looking for discounts that provide personal value. Try individualized deals, like threshold bonuses based on past purchases or customer polls.
Incentives may encourage more frequent shopping, like offering a bonus in December with a purchase in November. "Buy more, get more" deals can help boost the amount customers spend. Also, don't underestimate the power of "surprise and delight" strategies, like a small gift card or free shipping.
2. User creative messaging for "special deals"
This year, consumers are looking for "special" deals on Black Friday and all season long. The right messaging can make your existing activities feel extraordinary for shoppers. For example, instead of advertising 15% off, offer eye-popping bonus points that amount to the same. Or, schedule "tax-free" days for shoppers where you give them a discount equal to the tax in their state.
3. Create tiered offers
Creating tiered offers for customers, members and cardholders can add value for your brand's most loyal shoppers. For example, consider enhanced deals for card purchases or exclusive shopping hours for high-tier shoppers. For consumers with rewards or loyalty points, round up their balance and issue a reward certificate for an easy shopping experience that feels "white glove."
4. Add Value Early and Often
With a five-week window between Thanksgiving and Christmas, retailers can capitalize on the extra shopping days by planning a calendar of events. And with budget-conscious shoppers spreading out their purchases between paychecks, retailers have time to reach shoppers of all types. Early bonus campaigns will catch eager shoppers, while mid-December credit approval or topped-up rewards will help seal the deal with last-minute shoppers.
For more on holiday trends, and a webinar with our research teams, see Synchrony's full report on holiday shopping trends here. Synchrony is a leader in launching new capabilities and solutions for businesses to help drive sales, loyalty and reach new customers with more financing options. Contact us to find out how we can do more for your business.
The information, opinions and recommendations expressed are for informational purposes only. Information has been obtained from sources generally believed to be reliable. However, because of the possibility of human or mechanical error by our sources, or any other, Synchrony and any of its affiliates (collectively, "Synchrony") do not provide any warranty as to the accuracy, adequacy or completeness of any information for its intended purpose or any results obtained from the use of such information. The data presented in this article was current as of the time of writing. Please consult with your individual advisors with respect to any information presented.