March 28, 2018, 12:32 PM EDT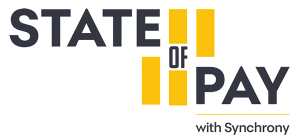 Tech is Altering the Retail Landscape at Lightning Speed
Here's some non-news: Retail is evolving. But the speed, extent and direction of retail's transformation is so drastic that it requires a deeper look.
By Carol Juel, CIO, Synchrony
As the CIO of Synchrony, the largest provider of private label credit cards in the United States*, I've had a front-row seat to watch the changes transforming our industry.
As with every industry, much of this change is digital: Retail is being upended by the increasingly widespread use of increasingly sophisticated technologies. But retail is truly unique in how high the stakes are as we witness these technological advances take place. Get it wrong and find your business with a giant "Liquidation Sale" banner on the front door — a trend we've witnessed claim even some of the world's best-known brands. But get it right, and you can land near what I'd call the retail Holy Grail: the perfect customer experience.
Improvements in data analytics and artificial intelligence have brought us closer to the consumer than ever before. We have immense knowledge about the customer and, critically, we have the tools to make that information actionable
Let's be clear. Commerce is still taking place. The bottom line is still there. But the way things are being purchased is changing so quickly that a failure to recognize these changes spells disaster for any retailer. The nation's agile and focused retailers are responding. Retailers are rethinking the presence and purpose of their physical locations. This has changed brick-and-mortar's reason for being, shifting toward an entertainment and engagement model. Brick-and-mortar stores of the future will focus on delivering genuine brand experiences to build both trust and loyalty.
"
Improvements in data analytics and artificial intelligence have brought us closer to the consumer than ever before.
"
Though technology is often thought of in the context of e-commerce, it is also having an indelible impact on the expectations of brick-and-mortar shoppers. Consumers anticipate a new era of DIY shopping. The self-serve retail model, 24/7 stores with robot-assisted drive-thru windows and interactive mirrors, will become mainstream. Consumers rank interactive touchscreen mirrors in dressing rooms, for example, among the top three most exciting future innovations.

Technology means that retail will come to you, bridging the gap between home and store. Virtual and augmented reality will allow consumers to see how items might look in their house or on their bodies. Consumers will be able to secure in-home retailer services, purchase on demand using smart labels or QR codes, shop in 3D and use instant try-on features. These broader and faster offerings will also have to deliver customized products and offers. And, finally, in an era of ubiquity, less has become more, and consumers are increasingly looking for streamlining of brands. Instead of appealing to everyone, 57 percent of consumers surveyed† agree that retailers must streamline and focus on doing one or two things well.
57 percent of consumers agree that retailers must streamline and focus on doing one or two things well.
So what's driving all this tech? Believe it or not, the answer is often women.

The historical and structural barriers limiting women in technology cannot be overlooked. Reporter Emily Chang's brilliant new book, "Brotopia: Breaking up the Boys' Club of Silicon Valley," portrays how a single study — conducted by two male psychologists, I might add — transformed computer programming from a field dominated by women to one nearly unanimously male. Within a couple of years after a 1967 article in "Cosmopolitan" ran with the headline "The Computer Girls," computers became a "boy thing," grouped with GI Joes and trucks in toy stores. Today, the pay gap in Silicon Valley is five times the national average.

I say all this not to dissuade, but to encourage. We don't all need to be coders. But tech is pervasive. We do all need to understand and embrace technology.

As business and technology intersect, it isn't enough to point to technology as someone else's role, but technology needs to be embedded in all of our roles. The promise of data aggregation, predictive data and AI has the ability to transform the retail business. We know more about our customers than ever before, and we have the technology to make these insights actionable, with a historically unrivaled positive impact on customers.

Technology will indeed transform the retail landscape. I implore all retailers: Let's change with it.
LEARN MORE FROM STATE OF PAY
This content is subject to change without notice and offered for informational use only. You are urged to consult with your individual business, financial, legal, tax and/or other advisors with respect to any information presented. Synchrony and any of its affiliates (collectively, "Synchrony") makes no representations or warranties regarding this content and accept no liability for any loss or harm arising from the use of the information provided. All statements and opinions in this video are the sole opinions of the interviewee. Your receipt of this material constitutes your acceptance of these terms and conditions.
Carol Juel is executive vice president & chief information officer at Synchrony.
*Nilson Report (June 2017, Issue # 1112) - based on 2016 data.
†The Future of Retail Report, Synchrony, 2017