June 9, 2023, 9:00 AM EDT
Mobile Wallets: A Fast-Growing Frontier for Retailers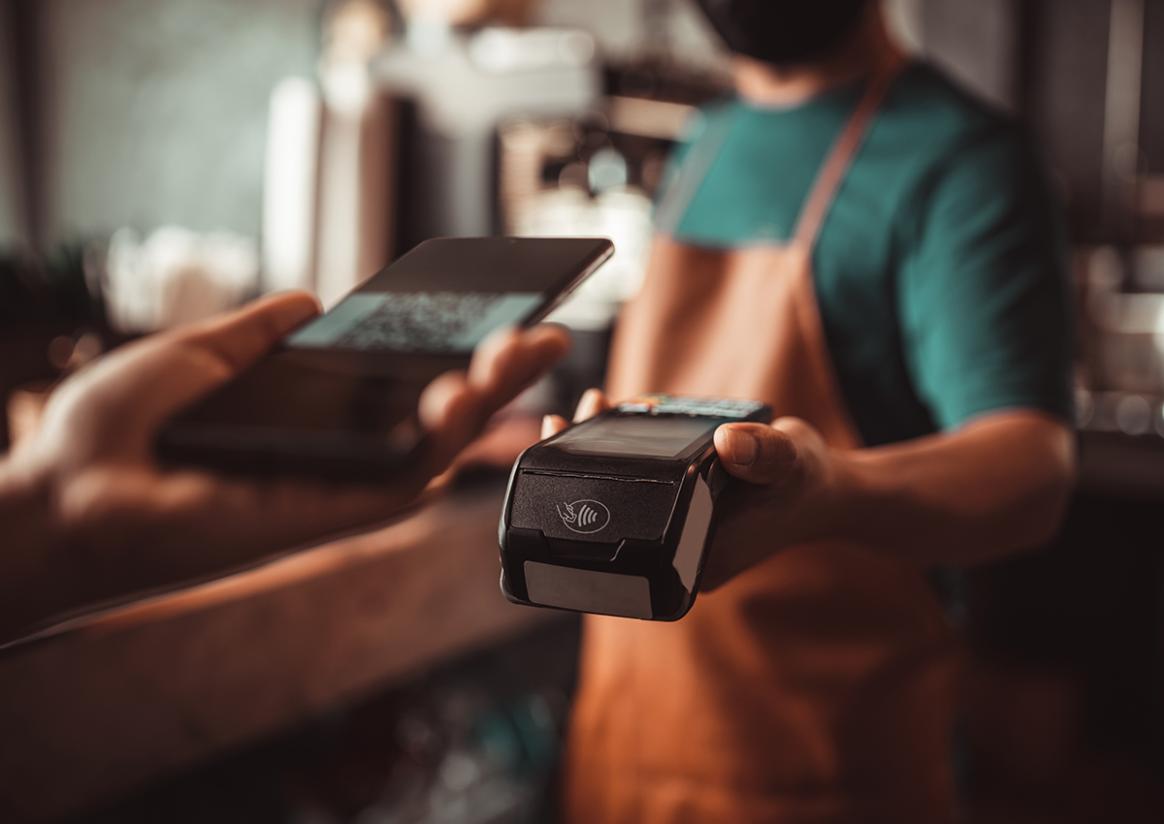 As more people embrace the powerful, convenient tools their phones have to offer, a growing number of shoppers are leaving their physical cards and wallets at home, opting to transact via mobile instead. Here are some of the core opportunities mobile wallets afford retailers.
1. Digital access-on-demand
Consumers are inundated with cash, coupons, fobs and other items that bulge wallets and purses. But they are finding digital solutions more efficient and convenient, whether the point-of-sale is a checkout counter, airline gate or social feed. The on-demand, seamless availability can be a differentiator among businesses — enhancing customer experience, all while simultaneously driving loyalty.
While the adoption of mobile payments may be taking longer than originally predicted, it is here — and will continue to accelerate. In fact, according to the 2021 Synchrony Major Purchase Study, 76% of consumers used their mobile device along their path to a purchase. And per Kantar 2022 Monitor, 47% of consumers feel their smartphone is an important tool for them when shopping. Mobile payment options offer shoppers additional utility – and the ability to add most general purpose and store cards to their wallets.
In general, mobile wallet options offer:
A faster authorization process than chip/EMV
Flexibility and choice in payment option
Better security features than physical cards
The ability to pay, even when a customer has no physical card or cash on hand
With that kind of convenience, it's no wonder why many shoppers already happily leave their cash, cards, coupons and tickets at home and rely solely on their phone for purchases. In fact, 42% of shoppers eligible for mobile payments have used mobile applications. Apple Pay continues to have the highest take-rate (51%), followed by Google Pay (49%).
2. Supercharged loyalty
One of the most underrated parts of shopper loyalty? Convenience. Shoppers who consolidate their loyalty accounts into mobile apps and wallets no longer have to hunt for cards, much less the account numbers, passwords and other login information that is notoriously hard to keep track of. Mobile access to loyalty offers and program benefits is instantaneous and convenient, incentivizing shoppers to participate more often.
Mobile tools also allow retailers to better understand their customer's habits, their preferences and rituals. Thanks to powerful AI services that are now readily available to any size retailer, all that collected data can be put to use crafting deeply personalized offers and promotions that are relevant and effective. That's a huge deal: according to the Synchrony Generational Study, 50% of consumers report that they rarely carry cash. More specifically, 28% use a mobile wallet application (44% Gen Z, 39% Gen Y).
3. Tech Convergence
The convergence of numerous technologies — mobile devices, ubiquitous internet, the cloud and, increasingly, AI — have enabled on-demand decision-making that fundamentally changes what's possible. From a retail marketing perspective, mobile devices allow businesses to send highly specific offers in real time based on where a shopper has browsed or shown interest, but also where they are located in that very second. Talk about surprise and delight for the customer.
Thanks to these technologies, shoppers using mobile wallets can also enjoy far more on-the-spot flexibility. For example, Synchrony's SyPi product can provide instant verification for new or increased credit lines, in addition to other powerful features, such as rewards redemption and biometric authentication using touch-ID.
According to a US Proximity Mobile Payments 2022 study, by 2026 nearly 30% of consumers' average retail spending will be transacted through mobile wallets—almost triple pre-pandemic levels.
54% of consumers feel that ability to add a credit card to a mobile wallet is more important loyalty program feature compared to two years ago.
53% of consumers feel that ability to redeem rewards by showing a phone is more important loyalty program feature compared to two years ago.
Technology has truly leveled the playing field — allowing businesses of any size, industry or location to capitalize on the growing shift to mobile-first shopping. Mobile payments and tools are not only about making transactions, but also making every interaction between customer and brand as seamless and personalized as possible. As mobile devices get faster, smarter and more secure, mobile-fueled commerce will become an increasingly important area of opportunity.
Synchrony is a leader in launching new capabilities and solutions for businesses to help drive sales, loyalty and reach new customers with more financing options. Contact us to request more information or to find out how we can do more for your business.
Sources:
1 Kantar 2022 Monitor Report.