March 19, 2018, 12:32 PM EDT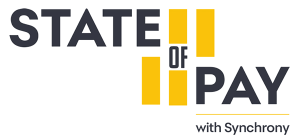 Introducing the Audio Wallet: Voice Commerce
Perhaps the biggest consumer blockbuster of the past year has been voice-controlled smart speakers, which allow owners to summon streaming audio, check the weather and request other information, control additional smart home gadgets and, increasingly, transact with third parties and retailers. Recent surveys suggest one or more of the various competing speaker models are owned by nearly a third of U.S. homes, making the category one of the most rapidly adopted consumer electronics ever. And, crucially for retailers, more than half of consumers who own a smart speaker say they already use voice for shopping. To put it mildly, that's huge.
Now in nearly a third of U.S. homes, voice-controlled smart speakers are one of the most rapidly adopted consumer electronics ever.
Clearly, voice commerce is poised to become an influential new channel and experience for consumers. Tim Christensen, SVP IT innovation and digital for Synchrony, says that unlike with some innovations of the past, the infrastructure to support voice commerce is already mature.
Security comes first
More than any design or technical issue, the most pressing concern for the future of voice commerce is earning consumer buy-in. To some extent it's an issue of marketing. There is a cultural issue to address — humans have to enjoy talking to machines first and foremost — but there is also a general fear of digital thievery. On that front, Christensen says voice commerce itself has no innate risk factors, since all of the backend processes duplicate those already used by banks and retailers for securely handling transactions and data.

But there are peculiarities about voice that call for unique solutions. For instance, unlike with apps or websites that often require authentication every session, with voice, services typically are authenticated once and then remain logged in. To a paranoid consumer, the worry is that anyone in speaking range of your device could go on a costly shopping spree or drain your bank account literally just by saying it. Christensen says there are a number of solutions that are being tested to solve that potential dilemma, such as voice print or PIN authentication. For now, Synchrony and others are adopting a deliberate approach of testing basic banking features, such as account balances and bill pay, and learning which ones consumers adopt. "I think the trick for us is balancing friction," Christensen says. How many authentication steps is the customer willing to go through to use voice versus just going to a phone or computer, or will they pay with less privacy for more ease?"
"
The hurdle is consumers getting comfortable with the technology, especially their perception of security and privacy.
"
Tomorrow is coming, quickly
Though digital assistants have been available on mobile devices for several years now, it's been the juggernaut success of smart speakers that has ushered in widespread acceptance of voice control. A few savvy retailers have gotten out in front with attempts at integrating voice as a sales channel for things like pizza and flower delivery or car services. However, as Christensen points out, so far consumers are still using voice for a limited subset of transactions. "We're seeing retailers get into that space tentatively with very narrow functionality — deals of the day, delivery offers, that sort of thing." At Synchrony, Christensen says one of the ways the company is looking to leverage voice technology is for customer experience — to do things like providing easy access to a list of recent transactions, available credit and paying their bill.

As consumers learn to trust voice as a channel for commerce — and as AI and natural language processing become more nuanced and more reliable — the capabilities of voice will blossom and expand. Christensen suggests that soon we'll think of voice as a contextual commerce tool, one that serves to help eliminate friction for consumers by enabling seamless, almost effortless, transactions. For Synchrony, in particular, that ultimately means leveraging voice to help merge banking processes directly into the consumer shopping experience.

"You can see a scenario where, if a consumer wants to make a purchase but doesn't have an account with us, we can make that application through the voice assistant, right in the purchase process," Christensen says. "Or maybe it's authorizing a credit line increase. We want all of those functions to be part of your experience as you go about your business — we don't want banking to be a separate experience."

Christensen believes voice commerce will also evolve into a ubiquitous, cross-platform experience, instead of being confined to a single speaker in the kitchen or study. "It's going to be a combination of channels that you're interacting with, all at the same time," says Christensen. "It won't be tied to one physical device that you purchase, but can be in a car, via your phone or a speaker or AR goggles." That said, voice won't completely replace keyboards or touchscreens or buttons, it will merely add to the mix of options for consumers to complete simplified, effortless transactions, whenever and wherever they want. "That's the vision," Christensen says. "Being there whenever and wherever customers are, and making it as easy as possible for them."
LEARN MORE FROM STATE OF PAY
This content is subject to change without notice and offered for informational use only. You are urged to consult with your individual business, financial, legal, tax and/or other advisors with respect to any information presented. Synchrony and any of its affiliates (collectively, "Synchrony") makes no representations or warranties regarding this content and accept no liability for any loss or harm arising from the use of the information provided. All statements and opinions in this video are the sole opinions of the interviewee. Your receipt of this material constitutes your acceptance of these terms and conditions.