April 1, 2018, 11:19 AM EDT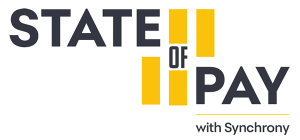 5 Advantages of Contextual Commerce
See how contextual commerce seamlessly integrates into a consumer's life throughout the day.
Technology has profoundly transformed the retail landscape. Yet that transformation has only just begun as we see the emergence of contextual commerce. In short, contextual commerce is the ability for consumers to accomplish transactions in any setting or circumstance. Maya Mikhailov, founder of mobile solutions expert GPShopper, a Synchrony Financial company, says the term is more than just a description of a retail structure and rather a commerce philosophy.
"It's about the ability for consumers to buy anytime, anywhere — like there's an omnipresent buy button available to them," she says. "But it's also about eliminating the details of the transaction from the focus." The result, Mikhailov says, is that consumers get to skip the tedious and distracting aspects of traditional retail structures — standing in long lines, waiting on a price check, waiting for change, getting items scanned and bagged — and instead concentrate on the experience, satisfaction and even joy of a purchase.
Mikhailov says that there's no grand template for retailers to adopt. Instead the strategy for implementing contextual commerce is for companies to assess their current processes in relation to a few core principles. Here are some of the defining traits and advantages that Mikhailov says contextual commerce can offer retailers now, along with a look at what's on the near horizon.
1. Contextual commerce is everywhere

Thanks in large part to the always-connected mobile revolution, Mikhailov says that today's consumers have the expectation of being able to buy anything instantly when they want or need it. "And today that means all the time—consumers are in a state of constantly buying," she says.
For retailers, this means figuring out strategies to meet customers where they are, rather than trying to pull them into existing transactional structures. "Today if I'm having a conversation in a messaging app and simultaneously decide I want to conduct a transaction, I can, without ever leaving the interface," Mikhailov says. This interface consistency is key. "The retailer is morphing to the consumer's experience, instead of vice versa — as it's been in the past."
This means considering employing new consumer-facing technology, via online, mobile, digital wallets, as well as implementing backend systems to facilitate new transactional modes. While this evolution may sound daunting, it shouldn't—Mikhailov says there are plenty of off-the-shelf options for budgets and scaling of any size. "What might make this intimidating isn't the tech itself, it's the operationalization of the tech—and for some retailers, changing existing habits," she says.
"
The retailer is morphing to the consumer's experience, instead of vice versa as in the past.
"
2. Contextual commerce is invisible

Mikhailov stresses that of equal importance to its ubiquity, the formal elements of making a purchase should be seamless for the customer. According to Mikhailov, the most fitting mainstream example is how on-demand car services have pioneered their payment systems to handle everything automatically with no need for consumer intervention.
"This has taught us that the best buyer experience may have nothing to do with the actual purchase," she says. That's a stark contrast from most point-of-sale experiences today, both online and in the physical world. Most are familiar with the feeling of tapping a foot angrily while stuck in an endless line, having a call drop after 15 minutes on hold, or inputting an app password 10 times in a row. Many traditional transaction modes have significant pain points that are alienating and deflating. Some even kill a potential transaction altogether.
A smart contextual commerce strategy looks for ways to speed up the purchase process and in some cases even eliminate it. "The best examples are when you're not interrupted by the technology that made a transaction happen—then you're able to stay focused on the experience," Mikhailov says.
"
This has taught us that the best buyer experience may have nothing to do with the actual purchase.
"
3. Contextual commerce is versatile

Implementing contextual commerce principles into a retail strategy is not an all-or-nothing prospect, Mikhailov notes. It's not about adopting any one particular technology and it extends beyond just apps and the internet.
"Retailers should take a hard look in the mirror and evaluate where their customers' pain points are. Then they can strategically invest resources to adapt," she says. For some brick and mortar retailers, that could be as straightforward as adopting consumer-friendly showrooms with POS systems, so buyers aren't directed into check-out lines. It could mean embracing a range of payment options that allow for efficient instant purchases. Additionally, consumer data can help retailers determine trends and solutions like enabling online purchases or offering customer service chatbots in messaging apps.
Whatever the strategy, Mikhailov says there are plenty of options readily available for any potential transaction category. But she also cautions retailers against chasing tech solutions just for tech's sake. "Marketers sometimes get seduced by some shiny tech that sounds cool or is used by a competitor, but they have to analyze how it'll be perceived by their customers first," she says. "VR might be great for designing a kitchen in a homeware store, but probably isn't a good fit for most shoe retailers."
4. Contextual commerce breeds loyalty

Consumers are going to make their choices based on a combination of convenience, experience and price," Mikhailov says. By successfully creating seamless transactions, retailers elevate the convenience factor, in turn improving the buying experience. Mikhailov says that once buyers are relieved of the pain points that plague traditional transactions, there's a sort of virtuous circle.
"If a retailer enables me to walk out of their store on a high note instead of feeling deflated from waiting in a long line at checkout, the experience is automatically enhanced," she says. And that's where retailers sow the seeds of loyalty. While consumers weigh consistency, reliability and product selection, among other factors, solving their problems in a manner that is friction-free inspires relief and even delight. Those are key components of earning a repeat customer.
"Today, many Americans say they'd prefer saving time and effort more than price," Mikhailov notes. "Besides, when you're competing only on price, by definition, that is not loyalty."
5. Contextual commerce is about to go viral

While the use of technology doesn't necessarily define contextual commerce, it is certainly the most potent fuel driving widespread innovations. Contextual commerce will develop from joining smart devices, mobile apps, POS devices, RFID, NFC, digital wallets, beacons, Virtual Reality and the Internet of Things. Artificial Intelligence and Machine Learning are already working both behind the scenes and on the front lines of retail. Mikhailov says we're only seeing the very beginning of what is coming.
"When you start layering in AI and predictive technology, retailers will be in a position of: I know something about you before you do, and I might be able to help you without your having to ask." Our devices will have sensors that talk to each other and learn our rituals. This coupled with AI will soon evolve into retail models where purchases are gently prompted based on our personal needs and preferences, without having to ask.
If this sounds somewhat invasive, Mikhailov suggests thinking of it the way we travel now. Consumers use traffic apps to not only suggest routes but also alter them on the fly to find the best possible route. We trust these apps and there's a reason why there hasn't been a shift back to paper maps and traffic jams.
"People welcome what you'd call life optimization," she says. "Especially as tech is able to help us remove tasks and suggest things more intelligently." If that sounds far-fetched, then just ask your phone for the weather report and where you can get burritos on your way home.
LEARN MORE FROM STATE OF PAY
This content is subject to change without notice and offered for informational use only. You are urged to consult with your individual business, financial, legal, tax and/or other advisors with respect to any information presented. Synchrony and any of its affiliates (collectively, "Synchrony") makes no representations or warranties regarding this content and accept no liability for any loss or harm arising from the use of the information provided. All statements and opinions in this video are the sole opinions of the interviewee. Your receipt of this material constitutes your acceptance of these terms and conditions.